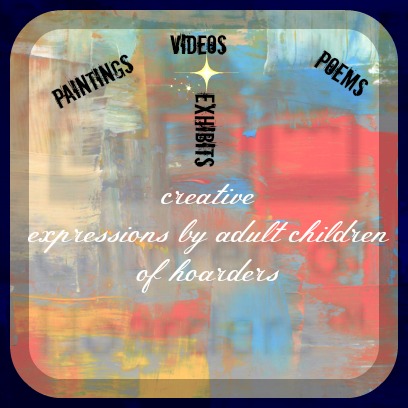 We are honored to display any and all
creative expressions created by COH that you would like to share!
---
7/2009:The Things We Carry: Artists Confront Compulsive Hoarding
Compulsive hoarding is usually a private matter. Individuals shut their doors and keep the public away from the mounds of stuff they've collected. But over the past few years, some artists, all children of apparent hoarders, are taking a public look at the little-understood psychological condition. They're using documentary, paintings and large-scale installations like Song's to explore our relationship to stuff, and why we can't let it go. "The whole point was to not hide this," says Holly Fisher, an Austin, Texas, artist who makes paintings of her mother's hoarding. They're among her most popular pieces of art; since 2001, she's sold 15 of them. "I really just wanted to get this off my chest. I never thought people would be interested in them."

Sorting through these massive collections of objects is not only physically challenging, but also an emotional struggle.  There's the nervousness about putting a private family member into a public display. Fisher, the painter, knew her mother was generally guarded about her hoarding.  "In the beginning it was terrifying," says Fisher.  "I thought my mother would have a nervous breakdown if she knew."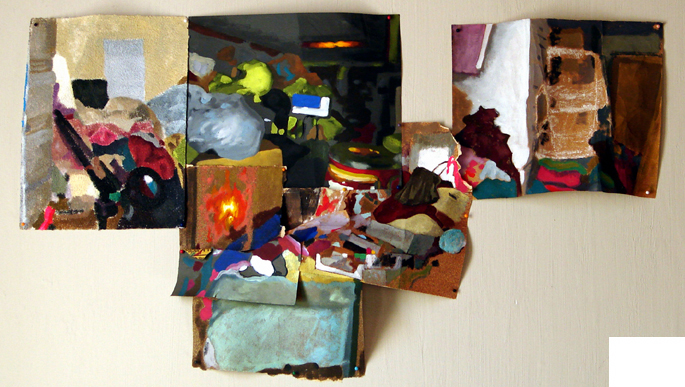 Says Holly:

"These are some of views that I tried to first disguise with Photoshop filters to make beautiful, then remove all but a few possessions using rotoscoping techniques or paint to make them minimal, then combining previous methods on used surfaces such as scraps of sandpaper and crumpled paper in order to do something new with them.
" -See her
portrait gallery
Oct 8, 2009
Hoarding As Art -What You Didn't See on Oprah
video feature son of a hoarder, Song Dong's, work
---

Filmmaker Cynthia Lester used her trade to make a documentary about her mother's hoarding. Lester ran away from home when she was 13, driven out by her mother's compulsive hoarding. When she returned for the documentary, her mother's house was so packed that the floor was no longer visible. She could only enter through the window and the bathroom had become unusable; neighbors has signed a petition to evict her. The documentary follows Lester and her siblings as they clean out her mother's house, an emotional and tense experience of fighting, yelling, crying and screaming.
Lester still grapples with what it meant to make her documentary, which, in a way, validated her mother's hoarding. In doing so, she wondered, was she only encouraging a mental illness, supporting the notion that every saved object has a purpose? "It's complicated," she admits. "In a way, its enforcing the fact that hoarding is okay, by turning it into a beautiful thing."
"When you live in this environment it's so chaotic and you're trying to make sense of it," she says. "I think creating art out if it is a way for us to do that."
The film, My Mother's Garden, was an official selection at the 2008 Slamdance Film Festival. It also aired on MSNBC in April.
---
Keeper of My Things
Poem by daughter of a hoarder, Donna Austin
I can't decide,
I'll just set it here-
I don't want to forget it,
So I need to keep it near.
The phone is ringing,
My children are calling-
Wish I could get to it,
Without fear of falling.
They think I can't see,
The mess in which I reside-
They think I must like,
The piles that slide.
Of course I don't like it-
Do they think I'm insane?
Maybe I am crazy –
To live trapped in this pain.
But my things are important,
They all MEAN something to me-
Everything is special,
There's so much beauty I see.
The more unique it is,
The more creative its flair-
I'll take home and embrace,
To cherish it there.
If something is broken,
I will take it in-
People have flaws too,
There's still value within.
Something once used,
By my loved one who died-
Sends out an energy,
Of their spirit inside.
My mother gave me this,
She'll be mad if I don't keep this one-
I miss her, she's been gone,
Since nineteen eighty one.
I just don't have the time,
My health's not good you know-
Something's always coming up,
Tonight's my favorite TV show.
If only I had more boxes,
If only I had more brawn-
If only I had more space to work,
These things would all be gone.
But they always need me,
My piles to sort through-
If I get them finished ,
Then what will I do?
As the Keeper of My Things,
I always have a role-
Tending to the needs,
Of my material soul.
Someday I will sort through it,
My family will no longer shun-
They would never understand,
My fear of being "done."
They want me to clean up,
They want to visit in my home-
I might want that fence up,
So I can be alone.
They want to take it,
And throw it all away-
Those aren't just things they're proof-
I existed here today.
Those things over there?
I plan to use them someday,
I can't have the life I dream of-
If you take them away.
If I have them, you see,
That life I can attain-
Where everything is perfect,
And people entertain.
Those dishes I plan to use,
When the table is cleared off-
Have friends and family over,
For my Beef Stroganoff.
Those decorations over there,
Are for the tree I have in mind-
I've got some other ones too,
That I'm trying to find.
Those magazines I will be reading,
I'm seeking recipes for duck-
Then I've got to look between the pages-
For anything that might be stuck.
But no I don't like this,
Why do you think I close the shades?
I'd like to see the sunshine too,
Before it sets on me and fades.
I didn't make it to the bathroom,
In time to go today-
Do you think I enjoyed,
Having those piles in my way?
My children want to help me,
They badger me so-
I know this isn't pleasant,
I'm not ready to change though!
They don't know what's special,
I'll get to it in time-
I just need to be the one to sort,
The decisions must be mine.
I know they want it done,
I know they want it clear-
I wish they would understand,
It's the void that's left I fear.
---
Digital collage courtesy of Sandra Martin: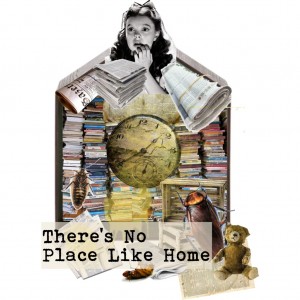 Paintings shared by daughter of a hoarder: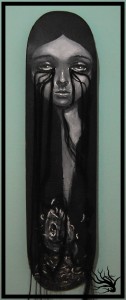 3/26/2011
Poem by an adult daughter of a hoarder: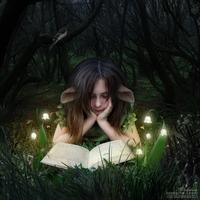 Watching, sitting by the fence,
watching neighbors play,
watching them swim,
and play, and play.
They are riding horses now.  I Love horses!
But, I can only watch.
My parents are mad at their parents,
for weeks, or months, I don't know.
I am a 10 year old prisoner in my own yard.
I am 15 now, talking on the phone.
I have friends now.
Friends from school.
But, they can't come over.
It's hot, sweat dripping down my back,
no air conditioning.
No place to sit.
So, I have friends by phone.
Sweet 16, I can drive.
Now I can get away.
I go to town,
Visit my friends,
Anything, to get away,
from the mess, the heat.
I spend my time at their house now.
Or, prowling in the car,
stealing vodka from my dad.
I am 17, I can leave.
College draws me far away,
No one here knows my secret,
Of the mess that I grew up in.
I am an equal here.
But, I am still insecure.
I am a hippie now.
Somehow I'm drawn to church.
I become a Jesus freak.
No more need for vodka.
Jesus gives me hope.
I have something better now,
But, I'm still a mixed up teen.
So, I change schools.
I am 22, I'm getting married now.
He has seen where I grew up.
He still loves me.
But, his family can't know the secret,
Of the mess that I grew up in.
My wedding is in my college town,
Far from the life behind.
I am 32, I have children of my own now.
My home is not a mess.
No happy visits to grandma's house.
They have no room for us.
If we get to see them,
they must come to us.
Time has passed.
My age is not important now.
Mom and dad are old now
I have them in my home.
They still trash their room,
though they can hardly walk.
I worry that there is no room,
to get a stretcher in.
What if they should need one?
You think I should be able,
to just clean it up.
It just doesn't work that way.
No, it just doesn't work that way
The struggle never ends.
For, a child of a hoarder.
No, the pain never ends,
For, a child of a hoarder.
---
---
Do you have something to add here?
Please share or post below in comment section if you'd like!