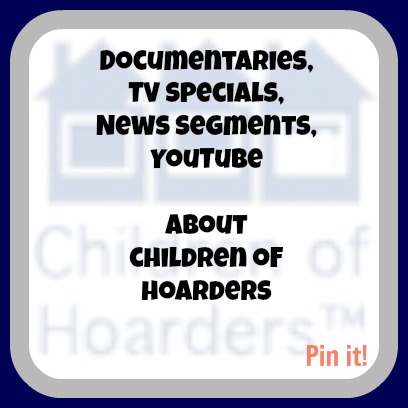 2012
2/12: NBC San Diego-Children of Hoarders: Special
One group is trying to raise awareness about the lives of kids who have hoarders for parents. Rory Devine reports.
2011
COH Segment on Today Show
Two children (Jason & Holly) who were raised in grossly cluttered homes, along with Randy Frost, author of "Stuff: Compulsive Hoarding and the Meaning of Things," discuss the social and psychological impact of their parents' problems with Al Roker
2/10/2010
Channel 3 Mich., Living In Chaos-The Toll of Hoarding
Pictures that Nelson showed Newschannel 3 of the inside of her mother's home show the disturbing and complex issues associated with the disease. Trash is piled so deep that her parent's basement can no longer be used. Upstairs, the family room that was once a place for the family to get together is now off limits to anyone except Nelson's mother and father.
"I realized that my mother had completely blocked my father's access to a bathroom in the house," said Nelson. "It's a complicated story, but he was using a portable urinal in the living room, and talking to her she seemed to rationalize, this was perfectly okay."
12/7/2009
A&E HOARDERS episode with Advocate for children of hoarders & their parents, Ceci Garrett
Season 2, Episode #2 (From Menu, select season 2, Video #8) Judi & Gail
When rescue workers were called to Judi's home they found her stuck in massive amounts of clutter and were forced to remove her through the kitchen window. The city condemned her home and she was placed in a rehabilitation facility. But time is running out. Medicare will stop paying in two weeks and Judi has nowhere to go. Gail once lived the disciplined life of a ballerina; but now her house is so full of possessions that the floors are sinking, the gas line is bent and the water pipes are broken. Gail must clean up enough to make repairs before winter.
4/3/2009
Family members in Granada Hills, Calif., are struggling with how to help their mother, whose clutter has literally pushed them all out of the house.
3/3/2009
2008
9/15/2008
7/2008
6/24/2008
My Declaration of Independence
Video made by a child of a hoarder "Hoarding is an illness that affects more than just the hoarder, it smoothers everyone that loves them"
2007
My Mother's Garden Film
by Cynthia Lester
See the story of 61-year-old Eugenia Lester, whose hoarding disorder pushed her four children to leave home. Cynthia Lester was 13 when she left, unable to find a place to sleep in the house amid all of the garbage. Filmmaking became her way to cope. (Also watch Cynthia and hoarding expert, Dr. Randy Frost on Inside E Street)
2006
The Hallway
Video showing dangers of hoarding and plea to get your parent help, by a son with a hoarding mother.
The Nest
Video showing the way hoarders surround themselves with possessions like "a nest" of security.
2002
Packrat, The Movie-June 2002. (daughter with a hoarding father)
Filmmaker Kris Britt Montag traces her family's struggle to deal with "packratting." Through family interviews, Kris chronicles her father's life and the development of the problem, which clinical professionals have addressed as a symptom of Obsessive Compulsive Disorder. Part personal, and part informational, Packrat takes a look at what it's like to grow up in a family where hoarding is an issue. View production journal.
ADDITIONAL:
TLC's Hoarding – Buried Alive:
House Hazards
One son can't believe his Mom is jeopardizing both her and his brother's health with her hoarding home conditions.
At the center is the mother, who says, "The house is swallowing me up." The fact is, hoarding disorder ripples out and envelopes the entire family, with lack of intimacy between the parents mirroring the children's isolation from the outside world. Of note is the burden the youngest child feels he must carry to hold together the family.
Video: The Hoarder, the Family & the Help
It takes a village to help a hoarder, and the Lester Family and Orange County Task Force on Hoarding strive to do just that. This video features scenes from Cynthia Lester's film
7 Dumpsters & A Corpse (by son/HM deceased)
Thomas Haemmerli is about to celebrate his fortieth birthday when he learns of his mother's death. A further shock follows when he and his brother Erik discover her apartment, which is filthy and full to bursting with junk. It takes the brothers an entire month to clean out the place. Among the chaos, they find films going back to the 1930s, photos and other memorabilia. Gradually they piece together a strange and unique family saga, in which baronesses and counts, Latin Lovers and Nazi officers play a role, and even the young Kofi Annan makes an appearance. A fast-paced and surprisingly funny story about an unusual legacy. Written by Mirjam von Arx, Producer
If you have anything to share, please use the comment section below-Thank you!