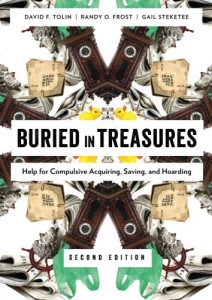 Note: This workshop is aimed primarily at "helping those with hoarding disorder dig their way out of the clutter and chaos of their homes." As such, it is not necessarily aimed at children of hoarders (COH), but we believe that many COH may be interested in the "Buried in Treasures" approach to reducing the role of clutter in their parents' lives. COH with questions about the program may contact the organizers at the LighteningTheLoad.org contact page.
Lightening the Load once again will be offering its "Buried in Treasures Summer Workshop Series" in twelve weekly sessions on Wednesday afternoons beginning May 7, 2014 through July 23, 2014.
The workshop is based on the self-help text, Buried in Treasures, and it operates on a facilitated self-help/book group model. It deals with topics such as problem-solving, decision-making, and reducing acquiring. Additionally, participants develop skills that foster courage and self-awareness necessary to begin sorting and parting with the build-up of accumulated treasures, or stuff.
The workshop group meets weekly for a 2-hour session (1:00–3:00 PM), and it includes more than 24 hours of instruction and support. For more information, visit the Lightening the Load website or download the workshop flier.